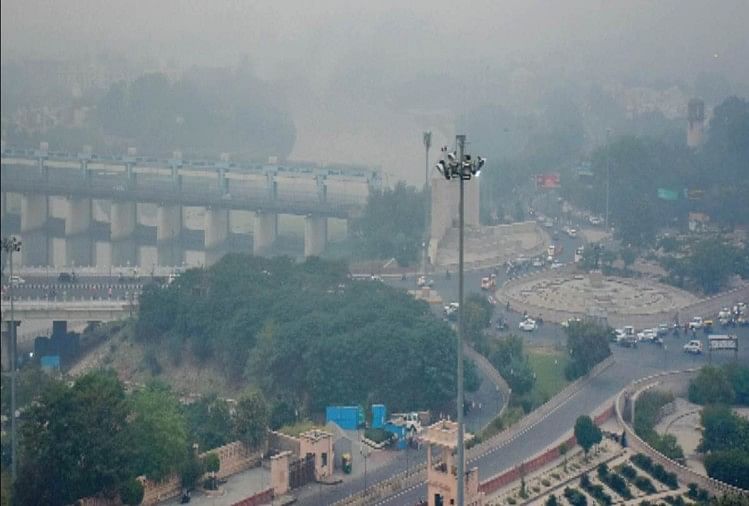 India News
Delhi Air Quality Slips Into Severe Category Due To Slow Winds Air Quality Index Recorded At 413 – Delhi-NCR winds in severe category, Ghaziabad most polluted for second day
On November 25, 2020 by admin
Delhi-NCR air reached critical category
– Photo: Amar Ujala
Delhi air, which has remained in the worst category for the last few days, reached the severe category with an increase of 34 points in the Air Quality Index on Wednesday. Except Delhi-NCR, Gurugram has recorded very poor to severe air. In this, people breathed in the worst air in Ghaziabad.
According to Central Pollution Control Board (CPCB) data, Delhi's average air quality index was recorded at 413 as against 379 a day earlier. At the same time, the figure was 295 on Monday. Apart from this, only 63 stubble burning incidents have been reported in the neighboring states of Delhi, Haryana, Punjab and Uttar Pradesh in the last 24 hours. Pollution of PM2.5 was only 2 percent of the pollutants generated from it, which was 5 percent 1 day ago. At the same time, PM10 level 376 and PM2.5 level 210 were recorded as the elements responsible for pollution. Both are in very poor category, while the PM10 level is below 100 and the PM2.5 level is below 60 is considered to be in the safe category.

According to Safar, the air standards body of the Ministry of Earth Sciences, these days the winds have turned towards southeast instead of north-west direction. At the same time, the ventilation index has also decreased with the decrease in wind speed. Due to this, polluting elements are helping to freeze and Delhi's air is getting polluted. However, with the increase in wind speed in the next two days, the ventilation index is also likely to improve. This can cause the air level to remain in a very poor to poor range. Significantly, after Diwali, Delhi's air had reached severe category. The rain that followed had cleared Delhi's air. Since then, the air was continuously in the worst category.
19 hotspots in Delhi arrive in red zone
About 19 hotspots also reached the Red Zone after Delhi's air reached severe category, while their number was less than 10 days ago. At the same time, people breathed the worst air in Jahangirpuri with 472 figures.
Ghaziabad remained the most polluted on the second day as well
Ghaziabad included in Delhi-NCR remained the most polluted cities with severe category air for the second day. Only Gurugram remained in a poor category with an air quality index of 299. Apart from this, Faridabad and Greater Noida were very poor and Noida and Ghaziabad remained in serious category.
Delhi hotspot figures
Anand Vihar 449
Ashok Vihar 464
Bawana 467
Chandni Chowk 420
DTU 440
Dilshad Garden 408
ITO 434
Jahangirpuri 472
Mundka 449
Temple Route 401
Narela 447
Okhla Phase 2- 426
Patparganj 427
Punjabi bagh 426
RK Puram 412
Rohini 467
Sonia Vihar 469
Vivek Vihar 455
Wazirpur 446
Delhi-NCR data
Ghaziabad 444
Noida 414
Greater Noida 394
Faridabad 348
Gurugram 299
read ahead
19 hotspots in Delhi arrive in red zone

www.amarujala.com