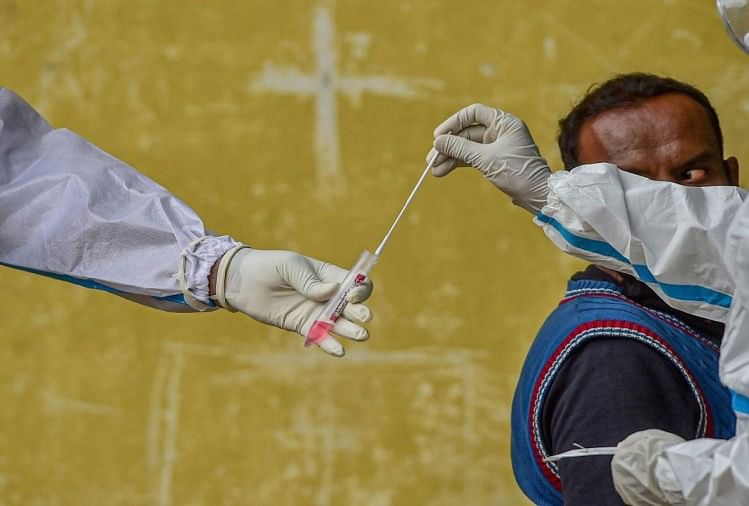 India News
Six Employees of Punjab Raj Bhavan Including Principal Secretary to the Governor Have Tested Positive for Covid-19 – Corona again in Punjab Raj Bhavan
On November 24, 2020 by admin
News Desk, Amar Ujala, Chandigarh
Updated Tue, 24 Nov 2020 09:08 PM IST
Corona virus (symbolic picture)
– Photo: PTI
JM Balamurugan, the principal secretary of Punjab Governor and Chandigarh Administrator VP Singh Badnaur, met Corona positive for the second time on Tuesday. Apart from them, five security staff of Raj Bhavan were also stunned after getting corona infected. This is the second time the corona virus has arrived in the Raj Bhavan. However, it is a matter of relief that the reports of the administrator and all his family have come negative.
An official statement issued by the UT administration said that Kovid-19 tests of all employees were conducted at Punjab Raj Bhavan last week under protocol. Out of a total of 338 samples, in addition to Principal Secretary to Administrator JM Balamurugan, five security personnel were also found Corona positive.

All have been isolated under the guidelines of the Health Department. The administrator and his family were also subjected to corona tests, although their report came out negative. After this the Raj Bhavan was sanitized. Also, for the next few days, due to security, the admission of anyone in Raj Bhavan and meetings held inside have been banned. Significantly, on August 9 also JM Balamurugan Kovid was found positive. He was then admitted to the isolation ward and the house of the Raj Bhawan was sanitized.
Two killed by corona in Chandigarh, 79 infected
While two patients died from corona in Chandigarh on Tuesday, 79 new cases were reported. The number of positive patients is 44 and 33 for women. After receiving 79 patients, the number of positive patients in the city has increased to 16848. At the same time, 265 patients have died. While 15455 patients have been cured.
In view of the increasing number of positive patients with cold, the administration and health department are appealing for people to strictly follow the standards of infection prevention. On Tuesday, 66 patients placed in home isolation were discharged.
Of the two patients who were confirmed dead on Tuesday, a 50-year-old male resident of Sector-46 died in a private hospital in Mohali. He was Corona positive. At the same time, the 70-year-old resident of Sector-37 died during treatment in a private hospital in the city. He was also a patient of diabetes and asthma, being corona positive.
read ahead
Two killed by corona in Chandigarh, 79 infected

www.amarujala.com