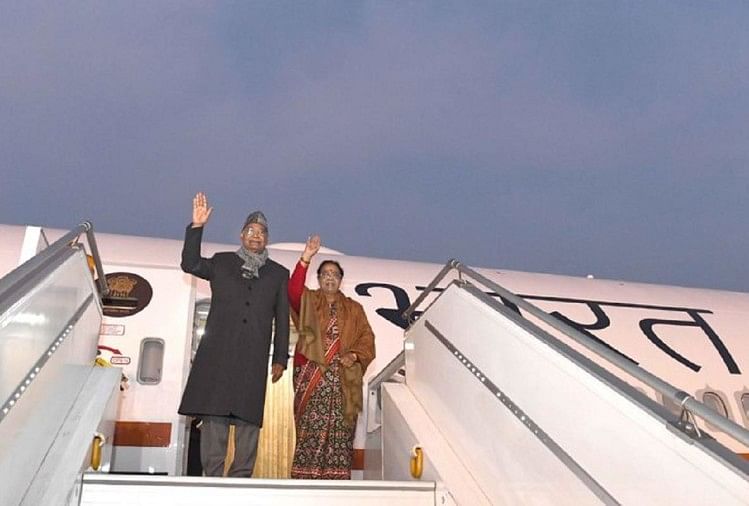 India News
President Ram Nath Kovind Boards The Air India One- B777 Aircraft For Inaugural Flight To Chennai For Visiting Tirupati – President Kovind traveled in the first flight of Air India One, to see God in Tirupati
On November 24, 2020 by admin
News Desk, Amar Ujala, New Delhi
Updated Tue, 24 Nov 2020 09:29 AM IST
President Ramnath Kovind – First Lady Savita Kovind
– Photo: ANI
President Ram Nath Kovind along with the country's first lady Savita Kovind left for Chennai in the inaugural flight of the Air India One-B777 aircraft. The President will visit Tirupati in Andhra Pradesh to worship at the Sri Venkateswara Swamy temple.
Earlier, it was told that President Ram Nath Kovind will offer prayers at the ancient hill temple of Lord Sri Venkateswara Swamy in Tirumala on Tuesday. According to official information, President Kovind will reach Tirupati on a five-hour spiritual journey today.

President Ram Nath Kovind boards the Air India One- B777 aircraft for inaugural flight to Chennai. The President will be visiting Tirupati, Andhra Pradesh to offer prayers at the Sri Venkateswara Swamy Temple: President of India pic.twitter.com/fIctxWpz4U

– ANI (@ANI) November 24, 2020
An official said that he will arrive at Renigunta Airport near here and will offer prayers to the Goddess Padmavati at President Tirupati. After this in the afternoon, we will go to the hills to see Lord Venkateswara. Keeping in view the Corona period, an official said that the top officials and others who attended the President's program were subjected to corona investigation.
Let us know that Air India One is the second special aircraft of Boeing 777 aircraft, which is specially designed for the chiefs of the country, the President, the Vice President and the Prime Minister to travel abroad. Its first aircraft arrived in India on October 1. The work of customizing these aircraft was done in Dallas, USA. India had signed a deal with Boeing Company in 2018 for these aircraft.
The specialty of these aircraft is that they can fly from America to India without stopping. After this aircraft arrives in India, it will be the first set of dedicated aircraft for the three dignitaries of the country. Till the arrival of these aircraft, Air India aircraft have been used to visit all the three dignitaries.



www.amarujala.com