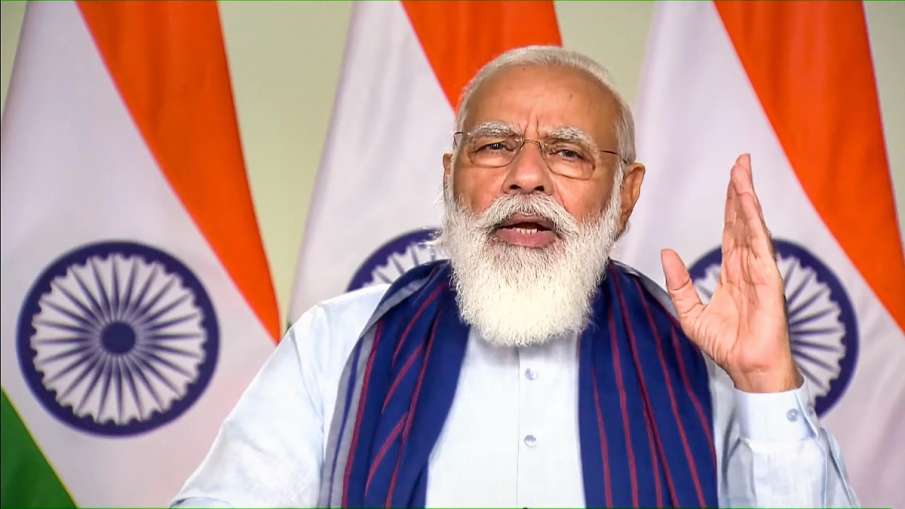 new Delhi. PM Narendra Modi today discussed with the Chief Ministers of various states regarding Corona, while addressing the PM Chief Ministers that whatever has been discussed about the status and distribution of the vaccine, what is avoided in the media is different but truthfully We have to move forward because we are part of the system. But still the picture has become clear, at one time we had to fight with unknown strength. But the organized efforts of the country met this challenge and kept the losses to a minimum, today India is in a very stable position in most of the countries in terms of recovery rate and mortality.
From testing to a huge network of treatment is working- PM Modi
PM Modi said that today a huge network of testing to treatment is working in the country and this network is constantly being expanded, there is also a special emphasis on providing oxygen and ventilators through PM care, the effort is that To make the country's medical colleges and district hospitals self-sufficient in terms of oxygen production, 160 plants have been started.
Now the country has a vast experience- PM Modi
PM Narendra Modi said that the country now has a vast experience in the management of Corona, how the society of the country has reacted during the last few months while making further strategies, the behavior of the people of India during the Corona is also a way Has been in different phases and different types of. In the first phase, everyone was scared and reacting in the same way, after this, in the second phase, fear of others added to the fear in the mind, fear of being cut off in society due to illness. felt. Due to this many people started hiding the infection.
Do not be careless – PM Modi
He further said that in the third phase, people started recovering to a great extent and also started to tell themselves that I have trouble or am isolated, after the third phase, now reached the fourth stage, when the rate of recovery from corona increased, people would think Is that the virus has become weak, people are also thinking that if they get infected, it will be cured, due to this the negligence increased very much, keeping in mind that before the festivals, the name of the country was in the message that carelessness Do not drink.
'We are moving from the deep sea of ​​disaster to the shore'
In the fourth phase, people will have to make people aware about the severity of the corona again, work will be done on the vaccine but there is no laxity, initially some bonding has to be made so that some arrangements have to be developed, now we have The team is ready, people are ready, if you keep a little request, things can be managed. And we definitely have to worry about the case not progressing further. As we move out of the deep sea of ​​disaster, we are moving towards the shore, lest our installment drowns where the water was less
Watch LIVE



www.indiatv.in