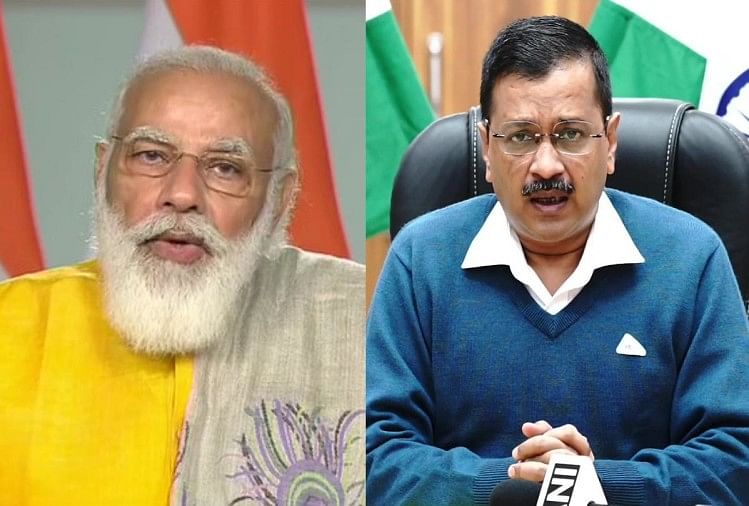 India News
Delhi CM Kejriwal Informs PM Modi about Covid Situation in Delhi Request Him to Interfere in Stubble Burning Pollution Matter to Get Rid of It
On November 24, 2020 by admin
Amar Ujala Network, New Delhi
Updated Tue, 24 Nov 2020 12:03 PM IST
PM Modi CM Kejriwal
– Photo: Amar Ujala
Prime Minister Narendra Modi is talking to Chief Ministers of the states most affected by Corona today through video conference. During this, he also spoke to Delhi Chief Minister Arvind Kejriwal. CM Kejriwal apprised the PM of the state of the capital and demanded that he intervene in the matter of pollution caused by the burning of the straw.
Chief Minister Arvind Kejriwal told Prime Minister Narendra Modi that 8600 infected were reported on 10 November during the third peak of Corona in Delhi. Since then, gradually infected cases and positivity rates are coming down. Kejriwal said that the more serious situation in the third peak is because pollution is also a factor in it.

The Chief Minister of Delhi urged the Prime Minister to intervene in the pollution caused by the smoke of the straw from the neighboring states of Delhi so that this problem can be overcome. Kejriwal emphasized that the use of the chemical made by the Pusa Institute should be encouraged so that the straw is converted into compost and there is no pollution. The Chief Minister also urged that 1000 ICU beds be installed in Central Government hospitals until the third wave of Corona ends.
Delhi CM Arvind Kejriwal sought PM's intervention to get rid of pollution due to stubble burning from adjoining states especially in view of recent bio decomposer. CM sought reservation of additional 1000 ICU beds in central govt hospitals till third wave lasts: CMO

– ANI (@ANI) November 24, 2020



www.amarujala.com