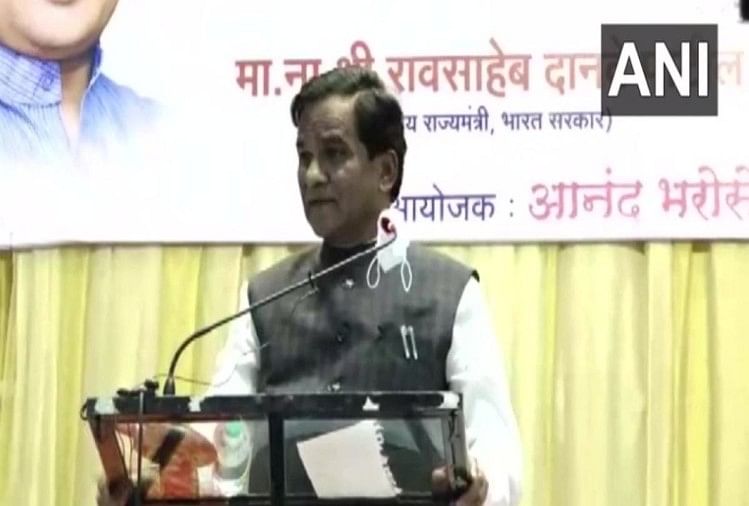 India News
Union Minister and Bjp Leader Raosaheb Patil Danve Says Our Government Formed Within Two-Three Months In Maharashtra – Union Minister Raosaheb said- BJP government will be formed in Maharashtra in two-three months
On November 23, 2020 by admin
News Desk, Amar Ujala, Prabhani
Updated Tue, 24 Nov 2020 01:27 AM IST
Union minister and BJP leader Raosaheb Patil Danve has claimed to form the BJP government in Maharashtra in the next two-three months. Addressing a meeting in Parbhani during the election campaign for the Legislative Council, BJP leader Raosaheb Patil Danve said that 'you don't think that our government will not form, it will be made in two-three months … We will conclude these elections Looking forward to it. '
You don't think that our government will not be formed, it'll be formed in two-three months…we're just waiting for these polls to conclude: Union Minister & BJP leader Raosaheb Patil Danve during campaign for Legislative Council elections in Parbhani#Maharashtra (23.11.2020) pic.twitter.com/6WHWJfT5je

– ANI (@ANI) November 23, 2020
Let us know that earlier on November 11, exactly one day after the results of Bihar elections, State BJP President Chandrakant Patil had said that the Thackeray government of the state will not run even for four years. Since then, there has been speculation whether Uddhav Thackeray government's countdown to Maharashtra has started. Maharashtra BJP President Patil said that we are people who follow the Constitution. Therefore, there will be no anti-constitution work by the BJP. We will continue to do our work as a competent opposition party in the state, but it is also certain that the Mahagavid Aghadi government of three parties will not be able to run for four years. He said that if elections are held at present, the results of the state will be in favor of BJP.
Operation Lotus can start in Maharashtra
There is a buzz in the political corridor of the state that Operation Lotus may start in Maharashtra soon. It is possible to change the power in the state. However, there is currently no movement in Maharashtra regarding this. But this discussion has been reinforced once again by the statement of State BJP President Chandrakant Patil.
… then the operation can also be a bow and arrow
At the same time, Shiv Sena leader and state Parliamentary Affairs Minister Anil Parab had said that where there is talk of running Operation Lotus for the change of power in the state, then we are also no less. On the same lines, Operation Dhanush-Baan can also be started in the state because no one can stop anyone. The one who has to perform the operation can decide the strategy.
Mahavikas Aghadi government is currently running in Maharashtra under the leadership of Chief Minister Uddhav Thackeray. The Mahavikas Aghadi consists of Congress, NCP and Shiv Sena.



www.amarujala.com