Highlights:
Yogi government has reduced the number of wedding guests in UP
Only 100 people attend marriage instead of 200
People are getting upset in the houses being married to the new advisory government
Preparations have been completed for the wedding ceremony, now how to reduce guests?
Lucknow
After Delhi, active cases of corona virus are increasing day by day in Uttar Pradesh. The UP government has issued a new advisory for marriage and other religious-family ceremonies due to the rising outbreak of Corona. Only 100 guests have been allowed to attend weddings. Previously this number was 200 which has been reduced to half. Also, adherence to other protocols related to Corona has also been emphasized. Due to this new order of the Yogi government, people of those houses where weddings are to be held recently. They say that the invitation cards have been distributed, now they are caught in a dilemma over who should refuse to attend the wedding. Apart from this, more guests have booked food and drink at the wedding house, etc. Now his advance payment has also gone into the water.
Akanksha, daughter of Harpal Singh, who lives in Kalyanpur, a housing development colony, is married on 27 November. The family has booked Club House. Harpal had printed 300 cards for the daughter's wedding. All cards have been distributed to relatives. With this, more than half the money has been paid to the band and DJ. Distressed Harpal Singh says that after the new advisory of the Uttar Pradesh government, the guest houses have also adopted a strict attitude. DJs and bands are also reluctant to pay back. Harpal pointed out that we had arranged 500 plates, including bari and girl side. After the new decree nothing is understood how to handle the situation.
Yogi government cautious about second wave of Corona! Permission of only 100 people in marriage now
Will the bandmates return the money?
Similarly, Ashish Rai's younger brother, who lives in Sulaimarasai's military colony in Prayagraj, is married on 11 December. Ashish told that with which mouth should the relatives refuse to come to the wedding. According to Ashish, he had done a band for 50 thousand rupees, but it is not yet clear whether the band members are allowed to attend the wedding ceremony or not. We have given him 10,000 rupees advance, now wondering if we will get this money back or not? At the same time, Rishabh Yadav, who lives in Pritam Nagar Colony, is married on 1 December. All preparations have been done. Nearly 500 people have also been invited, but due to the release of the guideline, there has been disappointment in their family too. Rishabh says that our family is very wide. With more than 100 members of the family alone, how can they get married without inviting relatives?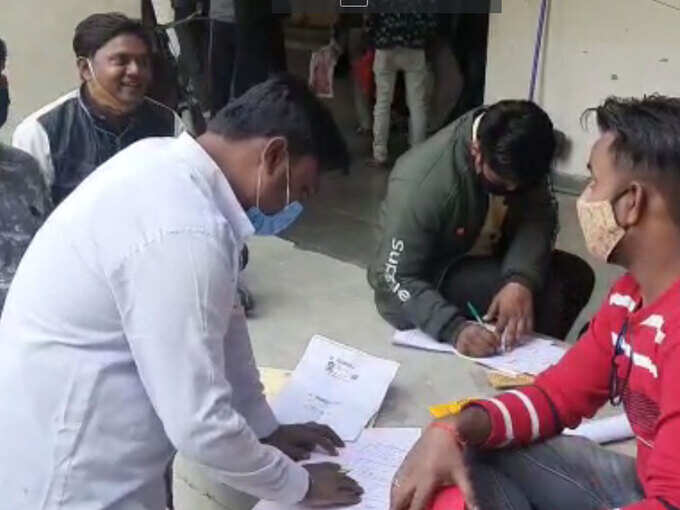 Water on the wishes of the only son's marriage
Dharmanagari is the same situation in Banaras. Following this strict approach of the Yogi government, marriages here have disrupted. The Verma family of Sonarpura is now worried about what will happen in the wedding ceremony to be held on December 1. Dr. AK Verma, the head of the Varma family, made special arrangements for the marriage of his only son. Advance money has been paid for the wedding from the tent to the decoration, but now the Yogi government's decree has turned everything on.
Aligarh gathering crowd to get permission for marriage
People in Aligarh are also very angry with this attitude of the government. Crowds have started gathering at the administrative office here to allow people to organize the wedding ceremony. Everyone wants permission as soon as possible. Bhanu Pratap Singh, who came to collect permission in the collectorate, said that we have come to take permission and there is a lot of problem here. The first 200 men were allowed and we have distributed the cards. Who will refuse now and people will be offended by this. We reported our problem to the authorities, but no solution was found. We have already ordered more than 200 wedding ceremonies. Now our money will go bad. At the same time, Mani Yadav said that we have been standing here for a long time to allow marriage.

navbharattimes.indiatimes.com