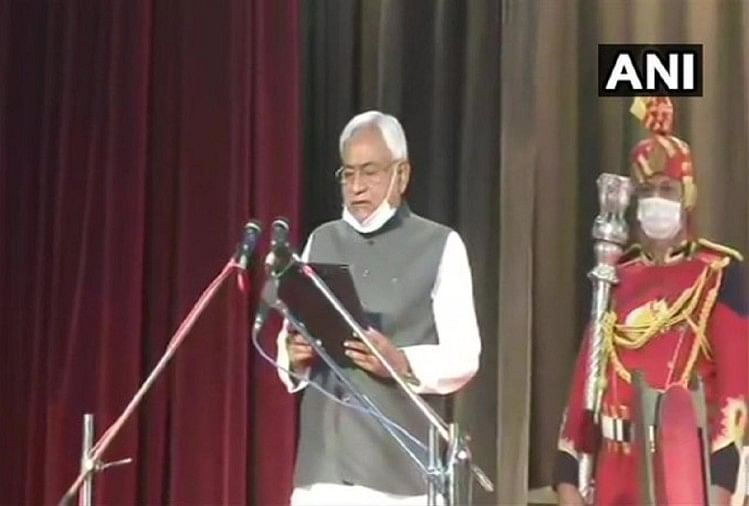 India News
Bihar News in Hindi Nitish cabinet will be expanded after 27th November – Bihar: Nitish cabinet will be expanded after November 27
On November 23, 2020 by admin
Cabinet expansion is possible after the Bihar assembly session ends. There are 36 ministers in the Bihar government. There are 40 departments in total. Currently, there are 14 ministers with Chief Minister Nitish Kumar. At present, Deputy Chief Minister Tar Kishore Prasad has 6 departments, Deputy Chief Minister Renu Devi has three departments, Vijay Chaudhary has five departments, Vijender Yadav has four, Ashok Chaudhary has five departments, Mangal Pandey has three departments, Amarendra Pratap Singh and Jeevesh. Kumar has been given the responsibility of three departments.
It is believed that the Chief Minister can make 17 more MLAs as ministers. BJP's participation in this will be more. If sources are to be believed, there is a possibility of making seven ministers from JDU and 10 from BJP. After this expansion, the number of ministers in the Nitish cabinet will increase to 32. However, a maximum of 36 ministers can be made on the basis of the total number of MLAs in the Legislative Assembly 243.

The 17th assembly session will last until 27 November. As soon as the assembly session ends, the expansion of the cabinet will intensify. After the expansion of the cabinet, the department will start functioning smoothly. In the previous government, there was only JDU and BJP. This time the NDA government consists of four constituents. Which includes us and VIP. However, we and VIP quota have been made ministers.
At present, there are seven ministers from BJP quota and five from JDU quota. Of these, Mevalal Chaudhary has resigned from JDU quota i.e. five including Nitish. One minister each has been appointed from VIP and HUM. It is believed that now the expansion will be done, only BJP and JDU will be made ministers.

www.amarujala.com