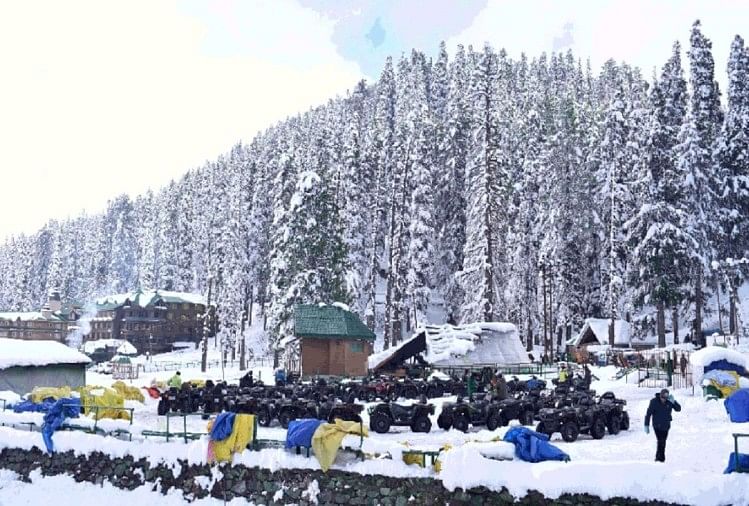 India News
Severe cold in the mountains heavy rain and snowfall expected from today – Jammu and Kashmir: Sizzling cold in the mountains, Srinagar winters, heavy rain and snowfall expected from today
On November 22, 2020 by admin
Amar Ujala Network, Jammu
Updated Mon, 23 Nov 2020 01:23 AM IST
Snowfall in Gulmarg …
– Photo: amar ujala
abstract
Snowfall in Jammu due to snowfall in the mountains, Srinagar was the coldest in the season, mercury reached -3 degrees
Cloud covered in Udhampur-Kathua, snow fell in Gulmarg and Pahalgam
Weather again changed, Jammu's minimum temperature was 7.2 degrees.
Detailed
The weather in the state changed its position once again on Sunday. The high mountain areas of Kashmir and Jammu divisions received snowfall while the plains were cloudy. This has led to a drop in temperature. The minimum temperature in Srinagar has been minus three degrees. Kathua-Udhampur and Samba were cloudy all day.
On Sunday, the mountainous regions of Gulmarg and Pahalgam in Kashmir received snowfall several times. Srinagar recorded a minimum temperature of – 3.0 degree Celsius which was the lowest temperature in the current season. The minimum temperature reached -7.4 in Gulmarg and -5.4 ° C in Pahalgam.

Jammu recorded a maximum of 22.0 and a minimum of 7.2 degrees. Banihal recorded a maximum of 15.0 and a minimum of 1.0. Katra, the base camp of Shri Mata Vaishno Devi, recorded a maximum temperature of 16.2 and a minimum of 7.0 degrees Celsius. According to the meteorological center Srinagar, the weather will get worse in the coming days.
Heavy snowfall and rain from today to 25 November
According to the Meteorological Center, since Monday November 23, heavy snowfall is expected in the hills of the state and normal rain is expected in the plains. It will run from 23 to 25 November. In such a situation, traffic on Mughal Road including Jammu Srinagar National Highway may be affected.

www.amarujala.com