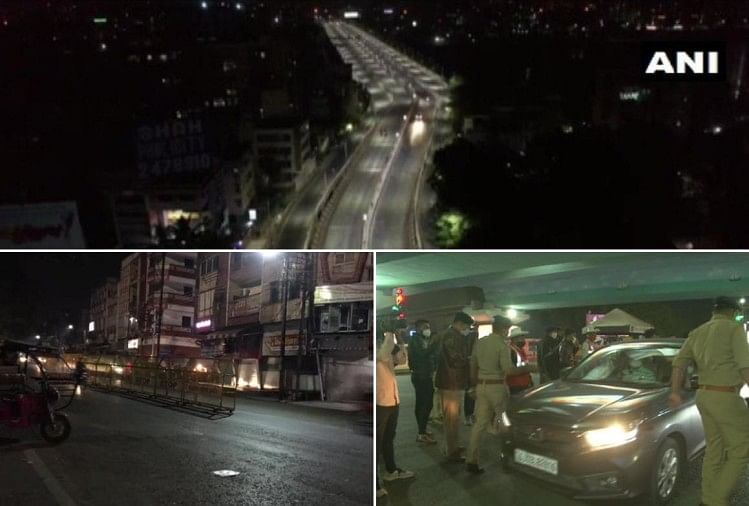 India News
Corona Virus: Strict Rules in Madhya Pradesh, Gujarat and Rajasthan, Night Curfew in Many Cities – Corona Virus: Strict rules in Madhya Pradesh, Gujarat and Rajasthan, night curfew in these cities, this happened
On November 22, 2020 by admin
The ever-increasing cases of corona virus have given sleep to many state governments. In view of this, strict rules are being implemented again in many cities. Night curfew has been imposed in cities of Madhya Pradesh, Gujarat and Rajasthan.
Madhya Pradesh

Curfew has been implemented in Indore, Madhya Pradesh on November 21 from 10 am to 6 am. During this period, only those associated with essential services and factory workers are exempted from this. There were 546 cases of corona virus in Indore yesterday, taking the total number of infected to 37,661 in the district.
Madhya Pradesh: Night curfew between 10 pm to 6 am imposed in Indore starting from November 21; people engaged in essential services & factory workers are exempted.

Indore reported 546 new #COVID19 cases yesterday; total number of cases in the district stands at 37,661 pic.twitter.com/vi8i1njkCJ

– ANI (@ANI) November 21, 2020
Gujarat
Strict rules have also been implemented in many cities of Gujarat. The curfew was implemented in Rajkot and Surat on November 21 from 9 am to 6 am.
A total of 1,515 new cases of corona virus have been reported in the state in the last 24 hours. With this, the total number of infected people has reached 1,95,917. Of these, there are 13,285 active cases.

Gujarat: Night curfew from 9 pm to 6 am imposed in Rajkot (pic 1 & 2) & Surat (pic 3 & 4) from Nov 21 in view of #COVID19 spread.

The State reported 1,515 new COVID cases in 24 hrs taking total tally to 1,95,917 of which 13,285 are active cases, as per last update by State govt. pic.twitter.com/AfszIRHCTQ

– ANI (@ANI) November 21, 2020
Rajasthan
At the same time, the Rajasthan government has decided to impose a nighttime curfew in the eight district headquarters most affected by the infection among the increasing number of patients with corona virus infection. Along with this, the fine has been increased to Rs 500 for not wearing masks in public places. Section 144 has been imposed in the capital Jaipur.
These decisions were taken at a meeting of the State Council of Ministers on Saturday night under the chairmanship of Chief Minister Ashok Gehlot. The meeting deliberated on measures to control the increasing incidence of infections due to cold and festive seasons.
It was decided in the meeting that the markets, restaurants, shopping malls and other commercial institutions in the urban area of ​​the eight district headquarters (Jaipur, Jodhpur, Kota, Bikaner, Udaipur, Ajmer, Alwar and Bhilwara) affected by the infection till seven in the evening. Will be open There will be a nighttime curfew in the urban area of ​​these eight district headquarters from 8 am to 6 am. The penalty for not wearing a mask has been increased from Rs 200 to Rs 500.
However, during this time, those going to the wedding ceremony, people related to the essential services including medicines and those traveling in bus, train and plane will be allowed to travel.



www.amarujala.com