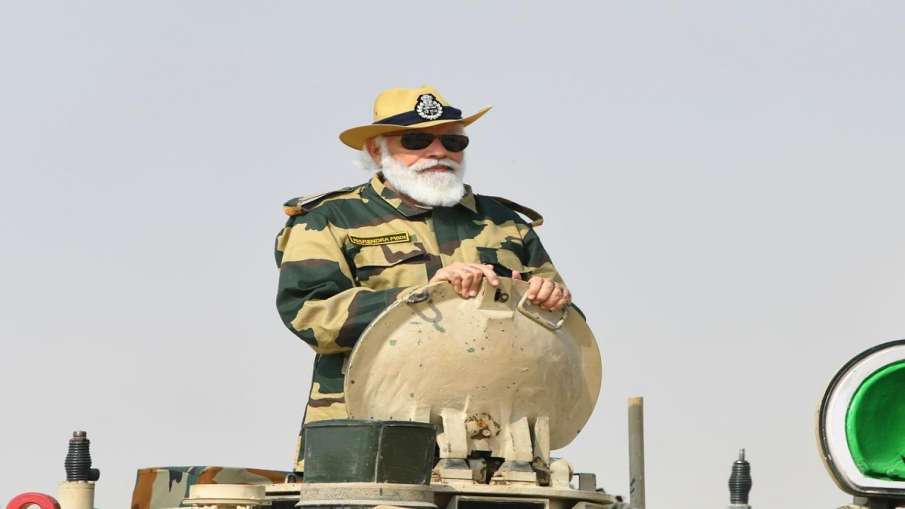 Mumbai. The Shiv Sena's continued attacks on the Bharatiya Janata Party and PM Narendra Modi after their separation from the NDA. Through its mouthpiece Saamana, Shiv Sena is attacking BJP and PM Modi freely. This time in an editorial in Saamana, Shiv Sena accused the Modi government of lack of aggression towards China and attacked it fiercely. In the editorial, the Shiv Sena sarcastically said that China has entered Doklam village in Sikkim while Arunachal, Himachal and Uttarakhand are preparing to enter the border and Modi government's statement on India-Pakistan rhetoric to divert public attention We are wandering by giving
Read- Owaisi's tweet on Hindutva, said big thing
In the face, the Shiv Sena made a scathing comment, accusing the Modi government of being "afraid" of taking the name of China and said that as it has shown its strength to take the name of Pakistan over terrorism in Kashmir, why not in the case of China when China Has penetrated the border. In the editorial, the Shiv Sena challenged the BJP leaders, saying that those who are struggling to remove saffron from BMC, if they have the courage, then show courage to remove the Chinese flag on the border.
Read- Killing of UP police constable, his sister and mother with ax, lathi and pistol, is very minor reason
In its mouthpiece, Shiv Sena said that Chinese troops infiltrated Ladakh under India's border. Chinese soldiers who have come in are not ready to return. Discussion and manipulation between the army officers of the two countries is about to withdraw from there. The Chinese have entered our border but we accepted the way of discussion and manipulation, it will be called amazing. The land is controlled by us and the Chinese Army, but the Prime Minister, Defense Minister and BJP leaders have shown some bullying in the name of China, such a picture does not appear. All these warnings etc. would have been kept safe for Pakistan.
Read- Youth dies in SP MLC flat due to bullet injuries, accident occurred during birthday party
In the editorial, the Shiv Sena said that China has come out, so it is to say that the Chinese army has entered the border of Bhutan, a friend of India and has taken a village near Doklam under its control. This village is on the Bhutan-India border. China's entry there is dangerous for us. Prior to this, the Chinese army had entered the Doklam border and there have been repeated skirmishes with the Indian Army. Now after crossing Doklam, Chinese soldiers have come and sat in the village.
Read- Nagrota encounter: Terrorists in constant contact with handlers sitting across the border, confirmation of this item recovered
In the face, the Shiv Sena further said that it is the responsibility of the Indian Army to protect Bhutan's sovereignty as the weakening of Bhutan would mean ripping India's border. Not Pakistan, but the Chinese army has penetrated directly into our border, yet Delhieshwar is closing his eyes and playing the cymbals of 'Hindustan vs Pakistan'. In the last four days, the Indian Army threw ammunition at the Pakistani border and demolished many posts and bunkers, that is right, but our soldiers were killed in our border. Among them, when the dead bodies of two soldiers wrapped in the tricolor came to Maharashtra, what were the BJP leaders of Maharashtra doing when they reached the soldiers' village? They were demanding Chhath Puja in Mumbai. Some of them were blowing the conch of 'Open the temple, Open the temple', while some were making inspirational speeches to remove saffron from Mumbai Manpa.
With Inputs from Saamna



www.indiatv.in