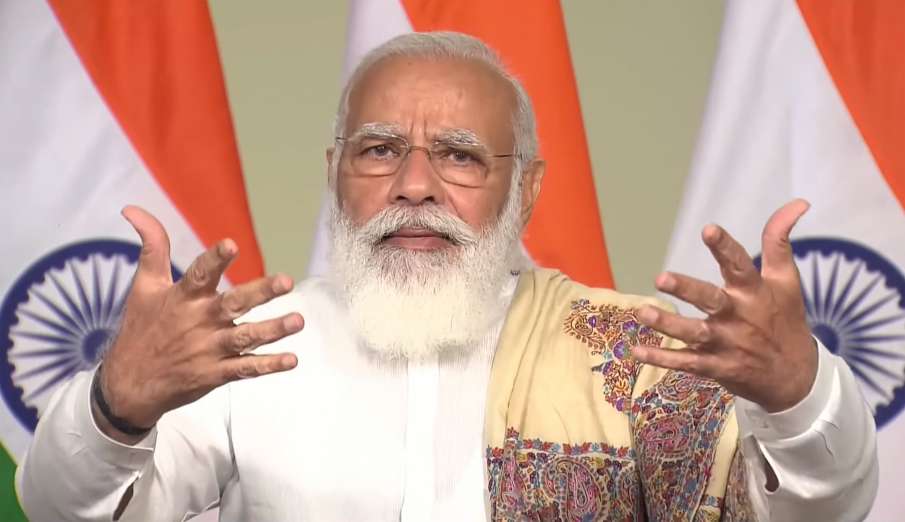 Gandhinagar: Prime Minister Narendra Modi said on Saturday that the country is moving towards the goal of reducing carbon emissions by 30 to 35 percent. He said that efforts are on to increase the use of natural gas four times in this decade and double the oil refining capacity in the next five years. PM Modi said this while addressing the convocation of Pandit Deendayal Petroleum University (PDPU) in a video conference.
He said, "Today, the country is moving forward with the goal of reducing carbon emissions by 30 to 35 percent. When I told the world about it, he expressed surprise and was curious about whether India would be able to achieve this goal. "PM Modi said," Four times the use of natural gas in this decade Efforts are on to increase and with this, work is on to double the oil refining capacity in the next five years.
He believed that the country would achieve the target set for renewable energy generation 'ahead of time'. PM Modi said, "Today the cost per unit (of solar energy) has come down from Rs. 12 to Rs. 13 to less than Rs. Today solar energy has become the country's priority. We are committed to generating 175 GW of renewable energy and I am confident that we will achieve this target before 2022. "
"With this we aim to produce 450 GW of renewable energy by the year 2030, this is big but we will achieve it ahead of time," he said. I am confident about it. "PM Modi said that investment of crores of rupees is to be made in the gas and oil sector this decade, which will create opportunities for students graduating in research, production and other aspects in this field. He said that work is on to strengthen the startup environment in the energy security sector and special funds have been allocated for this purpose.
PM Modi said, "If you have an idea, product and principle and you want to move forward on it, then this fund is a good opportunity for you and a gift from the government." The Prime Minister said that the corona virus Regardless of the difficult situation that arose, the graduating students should remember that their strength and potential is greater than the challenges. He told the students not to lose their faith.
PM Modi said, "More important than the problem is your purpose, priority and your commitment. It is not that you are facing a challenge for the first time in your life and it is not even the last challenge. It is not that the successful person does not have problems but those who accept these challenges and defeat them are successful. "He asked the students to remember the era of freedom struggle and how the people put their lives for it. Sacrificed
PM Modi called upon the students to become soldiers of 'Self-reliant India' in the same way. The Prime Minister said that those who succeed in life have a sense of responsibility. He said, "There is a lot to be done for the country but your commitment, your goal should not be broken. You see that they are successful in life who do something with a sense of accountability while those who fail are those who suffer from a sense of burden. The 21st century youth should move forward with a clear objective. The principle should be such that no obstacle can be changed. "
The Prime Minister called upon the students to make permanent efforts for positive results. He said that 'Swachh Bharat' is an example in which crores of people made a small effort into a movement. In his address, PM Modi recalled how the separation of domestic and agricultural feeders (electricity distribution system) made 24-hour power supply possible in Gujarat's households. The Prime Minister inaugurated five modern facilities at the eighth convocation ceremony of PDPU. On this occasion, Modi suggested the state government to change the name of Petroleum University to Energy University.



www.indiatv.in