Highlights:
Big disclosure from terrorists' mobile in Nagrota
Terrorists were in constant contact with Pakistani masters
Preparation for attack like save number, 26/11 in code word
Jammu
Four terrorists killed in an encounter in Nagrota Encounter, Jammu, two days ago, were preparing for a major attack like 26/11 in Mumbai 12 years ago. These Pakistan-backed terrorists were preparing for a major conspiracy. Many secrets have been uncovered from mobiles found near the terrorists. The Aaqa sitting in Pakistan was in constant contact with the terrorists.
Some numbers saved in code word were in constant contact in the mobile phone found from the terrorists. Locations from terrorists were being traced continuously from the save numbers known as P1 and P55. Terrorists were being searched in different messages from these two numbers. In some messages- Where to reach? What is Surat-e-Hall? Is there any difficulty?… like messages have been received. They also got a response from the terrorists, in which the reply was sent at 2 pm.
Read:India strict on 'Nagrota conspiracy', summoned to Pakistan High Commission official
Truck owner, contact sources started investigating
Along with this, another CCTV footage of the truck in which the terrorists were riding was found. The truck was spotted at a toll near Samba at 3.44 am. After about 40 minutes, the terrorists were wiped out at Ban Toll Plaza, Nagrota. Apart from the truck owner, information about these terrorists, who were in contact, is being collected.
Pakistani Rangers infiltrate Jaish terrorists
According to the information received, all these terrorists had entered India from across the border with the help of Pakistan. They were infiltrated by the Pakistani Rangers near the Shakargarh border. India has increased its vigil after the expose of a large conspiracy of Pakistan-backed terrorists in Nagrota. The Ministry of External Affairs has summoned an officer of the Pakistan High Commission. Many things made in Pakistan were recovered from the terrorists in Nagrota encounter. All the four terrorists killed were associated with Jaish-e-Mohammed.
Read: Truck becomes graveyard for 4 terrorists in Jammu, soldiers killed in encounter
PM had a meeting, praised the bravery of the soldiers
Significantly, the day after the encounter, after the encounter, Prime Minister Modi got information about the situation by calling a high-level meeting. Prime Minister Narendra Modi held a review meeting on the Nagrota encounter with Home Minister Amit Shah, National Security Advisor Ajit Doval, Foreign Secretary and top intelligence officers. Later, he praised the security forces and said that the nefarious plot failed due to the alertness of the brave soldiers.


Actually, during the check on the toll plaza in Nagrota, Jammu, the security forces piled four terrorists on the N-44. The terrorists were hiding in a truck and started firing when stopped for checking. During the retaliation, the soldiers blew up the truck, after which the terrorists started running towards the nearby forest. All the terrorists were killed in a 3-hour operation.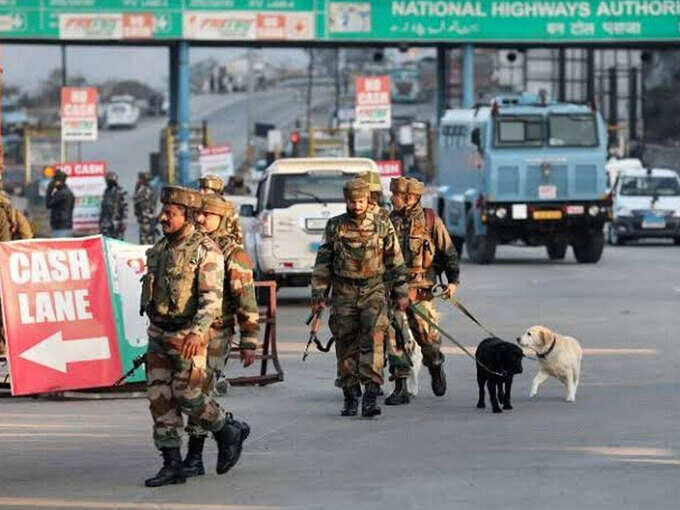 Security alert after encounter

navbharattimes.indiatimes.com