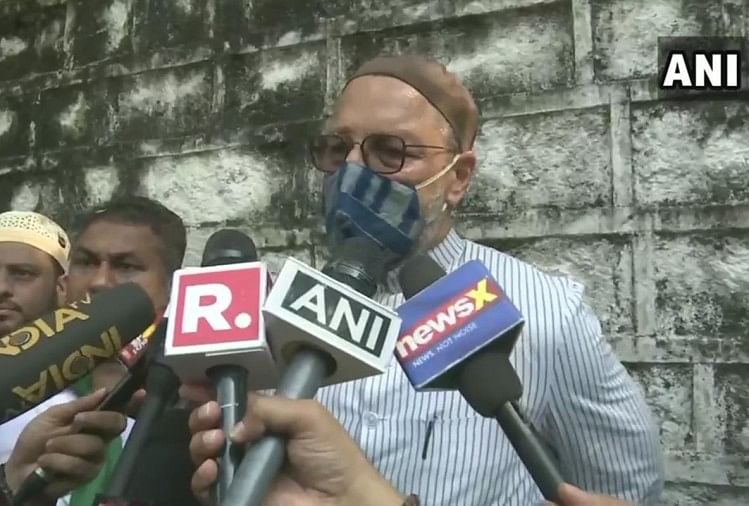 India News
Love Jihad Owaisi On Law Says It Will Be Gross Violation Of Articles 14 & 21 Scrap Special Marriage Act – Love Jihad
On November 21, 2020 by admin
News Desk, Amar Ujala, New Delhi
Updated Sun, 22 Nov 2020 03:02 PM IST
In India, the law case against Love Jihad has been in the news these days. The Shivraj government of Madhya Pradesh has drafted a law against it. At the same time, Uttar Pradesh is also going to make a law about it soon. Apart from this, there is a demand for legislation in Bihar and Haryana. Meanwhile, the National President of AIMIM and MP from Hyderabad, Asaduddin Owaisi, has suggested to read it first, saying it is against the spirit of the Constitution.
Owaisi said on Sunday, 'Such a law is against sections 14 and 21 of the Constitution. Then abolish the Special Marriage Act. They should read the constitution before talking of law. Such propaganda of hate will not work. BJP is adopting such tactics to divert the attention of the youth from unemployment.

It'll be gross violation of Articles 14 & 21, scrap Special Marriage Act then. They should study Constitution. Such propagation of hatred won't work. BJP doing drama to distract youth who fell victim to unemployment: Asaduddin Owaisi, AIMIM on anti-'Love Jihad' law by some states pic.twitter.com/lDnwrWPbA4

– ANI (@ANI) November 22, 2020
Provision of sentence of five to 10 years in UP
The home department of Uttar Pradesh has drafted the proposed law against Love Jihad. The draft has been sent to the legislative department for testing. It is likely to be presented in the next cabinet meeting. In the draft prepared by the department, it is being called 'Unlawful Prevention of Conversion Bill'. If found guilty in such a case, the accused can be sentenced to five to 10 years.
There will be a provision for punishment of five years in Madhya Pradesh
To stop love jihad in Madhya Pradesh, the state government is introducing a new act, 'Madhya Pradesh Freedom of Religion Act -2020'. Its draft is almost ready. Under this law, there is a provision for a five-year sentence if a fresh case of Love Jihad is caught. Apart from this, the Family Court will be given the right to cancel such marriages which have already taken place.
The draft will be presented in the winter session of the assembly
It is being told that soon the draft will be finalized and sent to the Law Department for testing. After this, the committee of senior secretary will discuss it. After cabinet approval, it will be introduced in the winter session of Madhya Pradesh Legislative Assembly. The act will also refer to marriage by temptation, coercion, fraud, deception.



www.amarujala.com