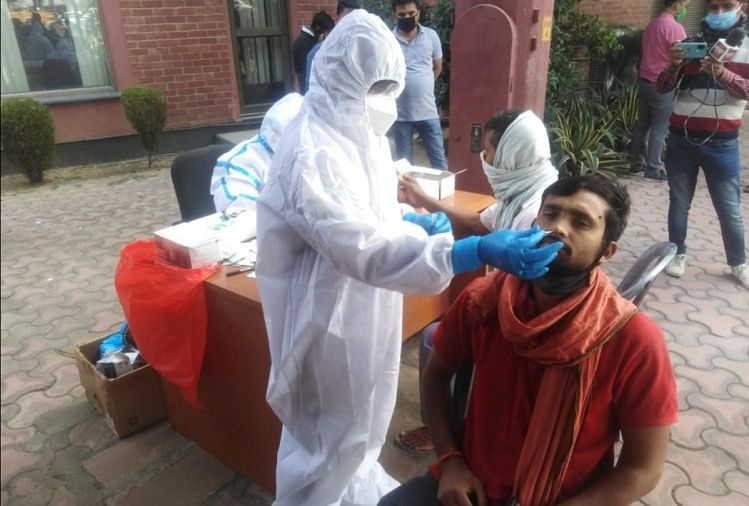 India News
2326 Corona postive patients found in up on saturday – 2326 new corona positive in UP
On November 21, 2020 by admin
News Desk, Amar Ujala, Lucknow
Updated Sat, 21 Nov 2020 08:57 PM IST
2326 new Corona positive cases have been reported in UP on Saturday. While 2097 has been discharged. In this way the positivity rate in the month of November is running at 1.6 percent. The total number of active infections in UP is 23471. More than 1.73 lakh samples have been tested on Friday. Static booths in 75 districts will be publicized so that all suspects can be easily investigated for infection.
Additional Chief Secretary Medical Health Amit Mohan Prasad said that 493228 infected people have become healthy in the state so far. Currently, the recovery rate of patients is running at 94.09 percent. Of the infected, 7524 have died. Of the active patients, 10924 are undergoing treatment in home isolation and 2228 in private hospitals. 173492 samples were examined on Friday. So far 17810564 samples have been tested in the state. Once again the number of corona probes has reached above 1.5 lakhs per day.

He informed that the number of investigations to prevent infection in the state has not been allowed to come down. Infection can be prevented through more testing. If an infected person is identified, it can be isolated in time and it will not be able to spread the infection to others. Additional Chief Secretary said that the infection was controlled through community surveillance in the state. Now it is needed again. The role of Village, Mohalla, Resident Welfare Association is important for community surveillance. If a person is suffering from fever, cough, shortness of breath, smelling smell, then ask them to get tested immediately. He informed that efforts are being made to make the state available in all 75 districts. So that the investigation can be done on the suspicion of the disease. If any symptoms are visible in someone, then they should be motivated to get their examination done. This is the way to stop the chain of infection. If the infected person is not identified, he will continue to infect more people.
The main infected districts in U.P.
Lucknow 343
Prayagraj 168
Ghaziabad 157
Meerut 155
Kanpur Nagar 141
Noida 137

www.amarujala.com