News Desk, Amar Ujala, Chandigarh
Updated Fri, 20 Nov 2020 12:03 PM IST
Haryana Health Minister Anil Vij.
– Photo: Amar Ujala
The third phase of testing of covaxine has started in Haryana. Haryana Health Minister Anil Vij was given the first dose of vaccine at the civil hospital in Ambala Cantt. Before giving the vaccine, the team collected their samples for anti body and RTPCR investigation. Kovid-19 State Nodal Officer Dr. Dhruv Chaudhary, Principal Investigator of Research Dr. Savita Verma, Co-Investigator Dr. Ramesh Verma, Nursing Staff and LT Staff were present in the team.
Trial started in Rohtak, Hyderabad and Goa

Trial of the third phase of Kovaxin started in PGIMS Rohtak, Hyderabad and Goa. Under this, 200-200 volunteers in three institutions will be given vaccine doses from Friday. This dose will be of six MGs. The second dose will be given 28 days after the first dose and the antibodies will be tested in their body after 48 days. On getting the right result, a total of 25,800 volunteers in 21 identified institutions across the country will be given this dose. This information was given by Dr. OP Kalra, Vice Chancellor of PGI on Wednesday. They said that the risks of covaxine are quite low. In the research so far, two volunteers have had mild fever and pain in place of vaccine. All our volunteers are healthy and none have been reported to have corona yet.
Vaccine can come in the market after February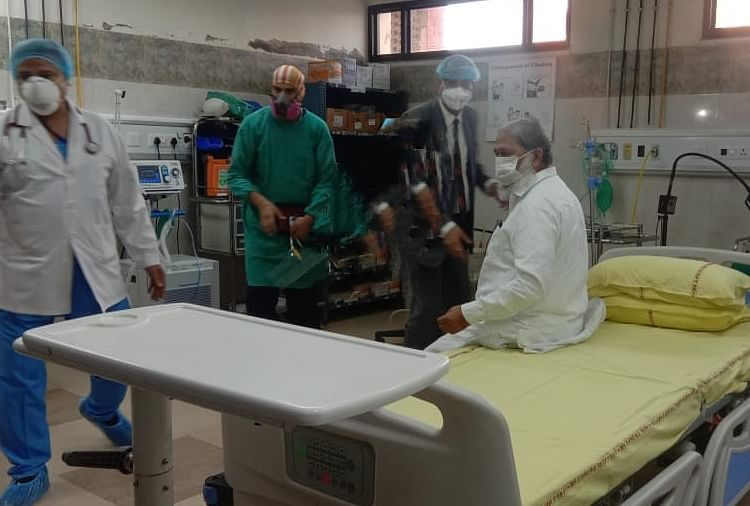 Haryana
– Photo: Amar Ujala
The VC said that the vaccine may come in the market after February. Currently, the India biotech company is conducting research on this vaccine. If successful in research, the work of manufacturing the vaccine will be given by ICMR to the company concerned. After that the vaccine will be available in the market.
Expect more from vaccine
Experts believe that India Biotech's covaccine will be more successful than the research going on abroad. Because it is designed based on the stain of virus found in the country. We will be more effective if we use it.
Such is the science of vaccine
Dr. Ramesh Verma, Co-Investigator of Vaccine Research, points out that cocaine is a cold vaccine. Therefore, there is no possibility of it being harmful. Rohtak PGIMS has got 200 vaccines for the third phase testing. In this, the first dose was given to the Health Minister. Experts said that there are two types of vaccines. One live and the other Killed.
In the Killed Vaccine, the material that is sent into the body by injection, its walls are chemically killed. He goes inside the body and slowly produces anti-body and makes the body worth fighting. The wall in the live vaccine is chemically removed and cannot pose a threat. Because only the outer area of ​​the wall bothers. The vaccine is therefore safe, it goes into the body and produces it slowly.
read ahead
Vaccine can come in the market after February

www.amarujala.com