Chief Minister Arvind Kejriwal said that Delhi government, the Center and all agencies are making double efforts to control the situation of Kovid-19 in the national capital. The Chief Minister said, "We are sending a proposal to the Central Government to give the Delhi government the power to impose lockdowns in market areas, which can become hotspots of Kovid-19". He said that during the Diwali festival, it was seen that many people were not wearing masks and they were not following the proper distance law due to which the corona virus spread very much. Earlier in the day, the Delhi government used the term local lockdown in its press release but was later amended and closed. Let us know what activities may be banned if the lockdown is put in Delhi again…
Rigor again on wedding ceremonies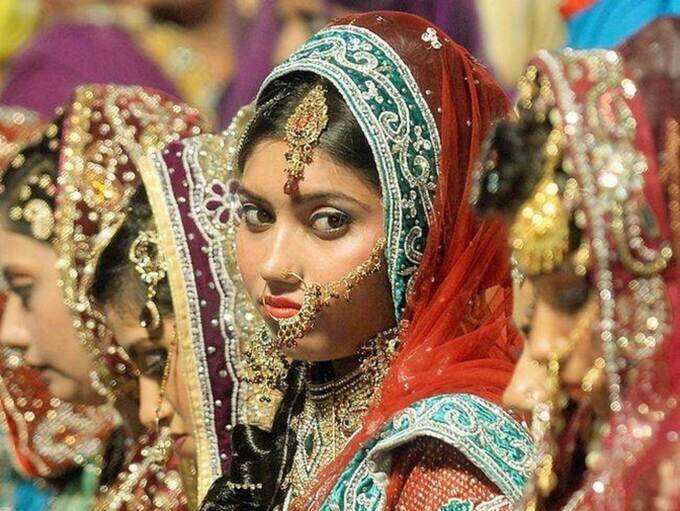 Kejriwal said in an online press briefing that the Delhi government has sent a proposal to the Lt. Governor to allow only up to 50 people to attend the wedding ceremonies instead of 200. Chief Minister Kejriwal said, "Due to the decrease in the number of cases of corona virus infection, up to 200 people were allowed to attend marriage ceremonies earlier as per the guidelines of the Center." Kejriwal said, "Now a proposal has been sent to the Lieutenant Governor Baijal to approve the withdrawal of the earlier order and increase the number of guests to 50 from 200 in marriage ceremonies". . Whether it is a ceremony in an open space or a closed place, no more than 50 people will be able to participate in any place. In the close space, 50% of the people can come according to the hall capacity, but maximum 50 only.
Suggestion to close market, public transport also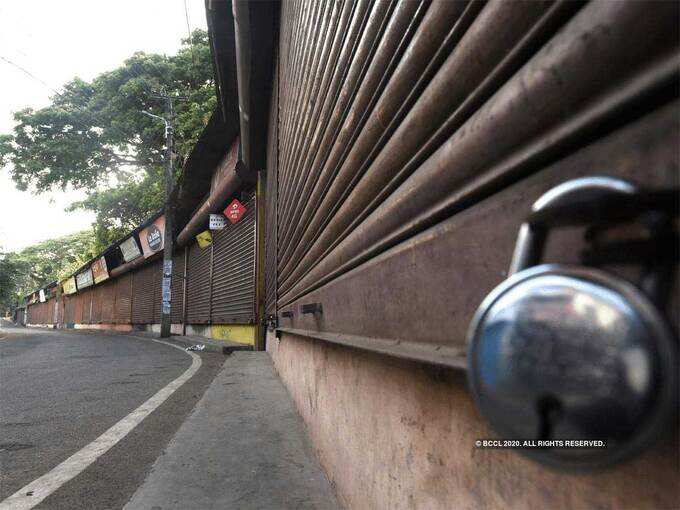 The Congress on Tuesday said in view of the spurt in cases of Corona virus infection in Delhi, markets, public transport services and government offices should be closed. Senior party spokesman Ajay Maken alleged that nothing was being done except advertising. He said, 'We want to say that markets should be closed. Must not be selectively closed. Work from home should be encouraged. If the metro runs at all, it does not work at all.
Businessmen angry after preparing for lockdown again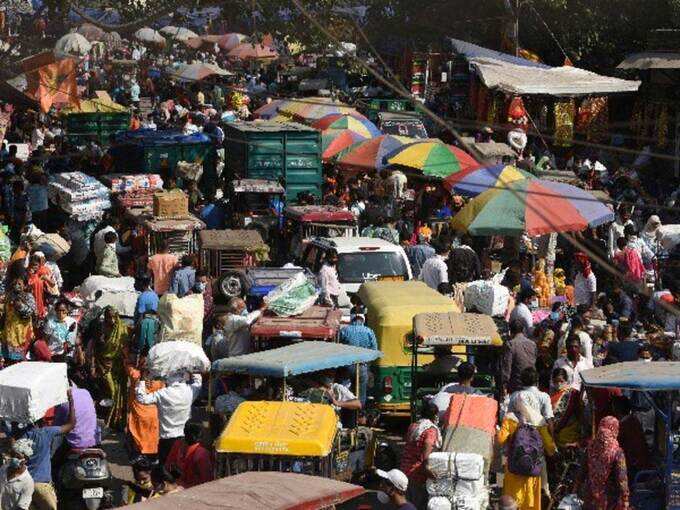 Traders say that they are being made 'scapegoats' and they have not been able to recover from the loss from the first lockdown. Ashok Randhawa, general secretary of Sarojini Nagar Bazar Sangh said, 'The government is treating us like a goat of sacrifice. We have made up some of the losses in this festive season and the government is threatening to close the market again. We are following precautionary measures like keeping social distance and using masks etc. to avoid Kovid-19. A representative of the New Delhi Business Association, which also houses Connaught Place, said that the same rule cannot be applied to all markets. However, Sanjay Bhargava, president of Chandni Chowk Business Board, supported the government's stand.
Surprising investigation of those going from Delhi to Noida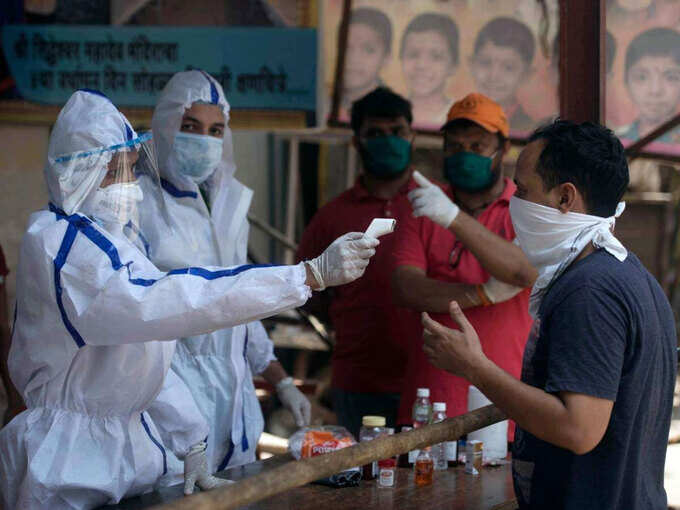 Due to the rapid rise in the corona virus cases in the national capital, people coming from Delhi to Noida will be investigated randomly from Wednesday. Gautam Budh Nagar District Magistrate Suhas LY said that there would be no restriction on the free movement of people between Noida and Delhi. Suhas said, 'The infection has increased due to the movement of people from Delhi and other places. Therefore, such people will be tested randomly and counseling has been issued to all institutions here to monitor, identify and provide necessary treatment to people with symptoms. He said that a surprise test would be carried out with a rapid antigen kit.
Monitoring teams will be deployed in container zones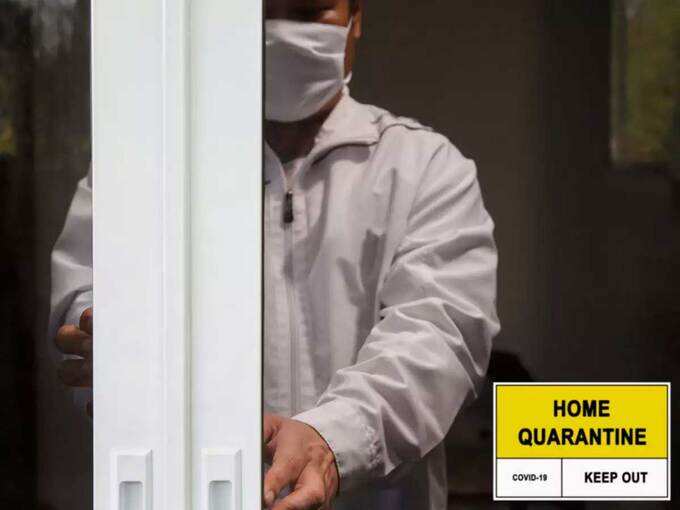 In Delhi, it has been decided to conduct door-to-door survey to detect cases of contamination in prohibited areas and hazardous areas and for this 7,000 to 8,000 teams will be deployed. NITI Aayog member VK Paul said that the Kovid national workforce has said that the capacity of ICU beds will be increased from 3,523 to 6,000 in the next few days.
Why the need for lockdown again?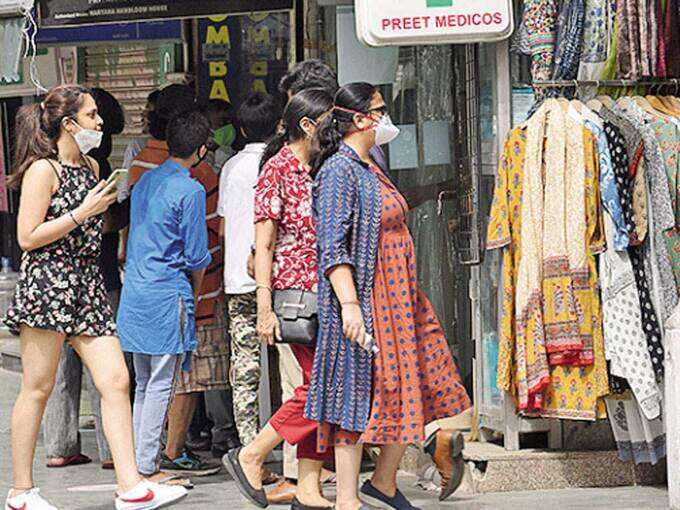 NITI Aayog has said that 'unprecedented conditions' have arisen in Delhi which may worsen in the coming week. He feared that the rate of victims per 1 million Kovid-19 epidemic in Delhi could rise to 500 from the current 361. The commission has blown all the rules to protect the corona during festivals. In the coming weeks, paramilitary doctors and medical staff are being sent to Delhi from many states in fear of further worsening. On the other hand, the meeting was called by Union Home Minister Amit Shah on the situation in Delhi on Sunday. 12 major directives were issued at a high level meeting. The meeting was attended by Lieutenant Governor of Delhi Anil Baijal, Chief Minister Arvind Kejriwal and Union Health Minister Dr. Harsh Vardhan. It was decided to double the investigation of RTPCR. When there was a shortage of health workers in Delhi, they decided to arrange for additional doctors and paramedical staff from the Central Armed Police Force (CAPF). About 75 Central Paramilitary Doctors and 250 paramedical staff are being sent to Delhi from states like Assam, Tamil Nadu, Gujarat, Madhya Pradesh, Uttarakhand, Rajasthan. The Union Home Ministry said that some doctors and staff have also reached Delhi.
Delhi on top in big cities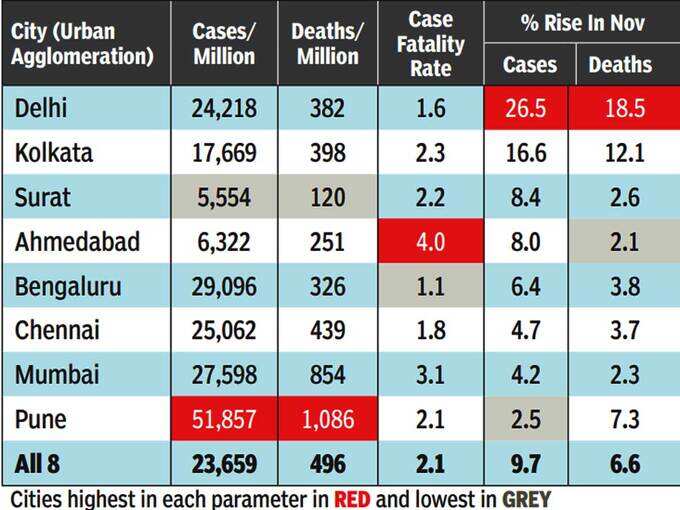 In the case of Corona case, Delhi is on top among the big cities of the country. See the full list above. The cities that are at the top of each scale are underlined in red, while where the scale is better on each scale, they are marked in gray.
More than 1 lakh new corona cases between 1 and 16 November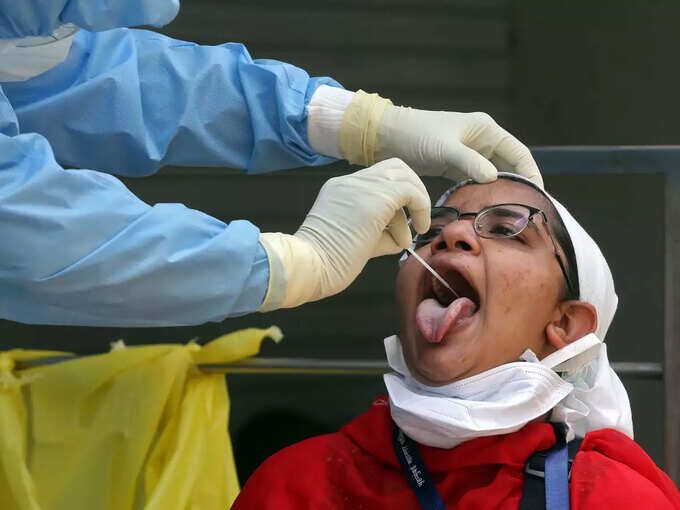 Between 1 and 16 November 1,01,070 new cases of corona virus were reported in Delhi and around 1,202 infected died, while around 93,885 patients managed to recover from the infection during this period. There were 5,664 cases of infection on 1 November which increased to 8,593 on 11 November. This is the highest number of cases of infection in a day till date. According to the data, there were 41,316 cases of infection in the capital from October 1 to October 15, while 563 infected died, while 45,056 people were cured by the virus. At the same time, 65,675 cases of infection were reported from October 16-31 and 587 people died from infection. In the same period, 54,974 patients recovered from the infection. There has been a sudden increase in the corona virus cases since October 28 in the national capital. For the first time that day, the number of daily cases of infection exceeded 5,000 and on 11 November the number of daily cases exceeded 8,000. 104 people died of infection in Delhi on November 12, which is the highest number of deaths in one day from infection in more than five months.
Every fifth Kovid patient who dies in the country is from Delhi: Maken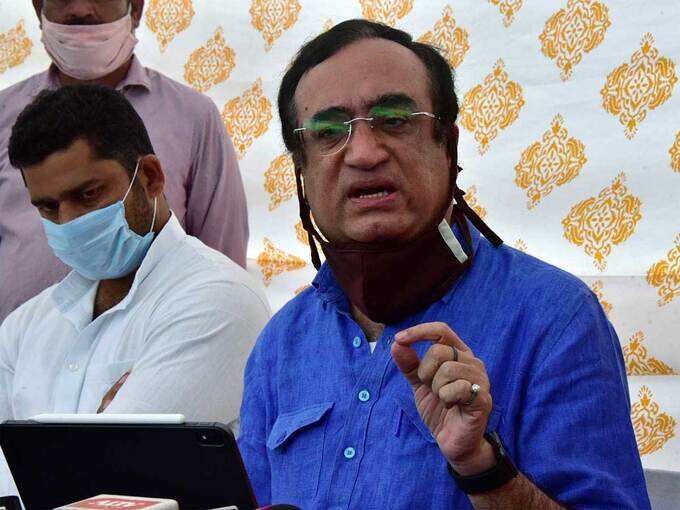 Congress spokesperson Ajay Maken said, "It is also a matter of sadness and it is also a sign of the stagnation of the government that out of every five people who die from Kovid in India, one in every five people is from Delhi." The Chief Minister of Delhi and the Home Minister of the Center are both equally responsible for this situation in Delhi. Indeed, 7,053 cases on 12 November in Delhi; 7,802 on 13 November; 7,340 on 14 November; There were 3,235 cases on 15 November and 3,797 cases on 16 November. 85 of deaths from daily infection in Delhi between 11 and 16 November; 104; 91; 96; 95 and 99 cases were reported. Similarly, on November 15, 7,606 Kovid-19 patients became healthy, which is the highest number of people who got infection-free in one day this month. 7,264 on 11 November while 6,462 people recovered on 12 November. The number of people recovering daily from November 13-16, respectively, 6,498; 7,117; 7,606 and 3,560.
Satyendar Jain had ruled out the possibility of lockdown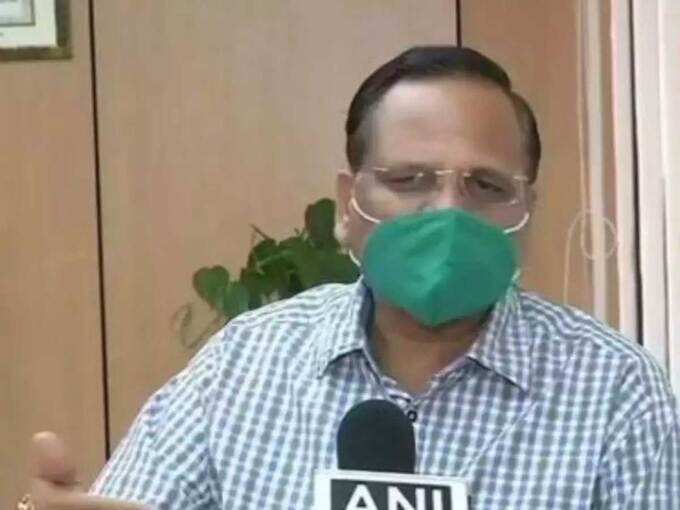 Two days ago on 16 November, Delhi Health Minister Satyendar Jain said that there was no possibility of a lockdown in the national capital again as the third wave of corona virus in the city had reached its peak. Jain had also said that the virus cannot be prevented from lockdown and that people should protect themselves by wearing masks. Talking to news agency ANI, Jain said, "There will not be a lockdown in Delhi again." I do not think it will prove to be an effective step right now. Wearing everybody's mask is more beneficial.
Half of the place on Nigam Bodh Ghat will be reserved for those who die from Corona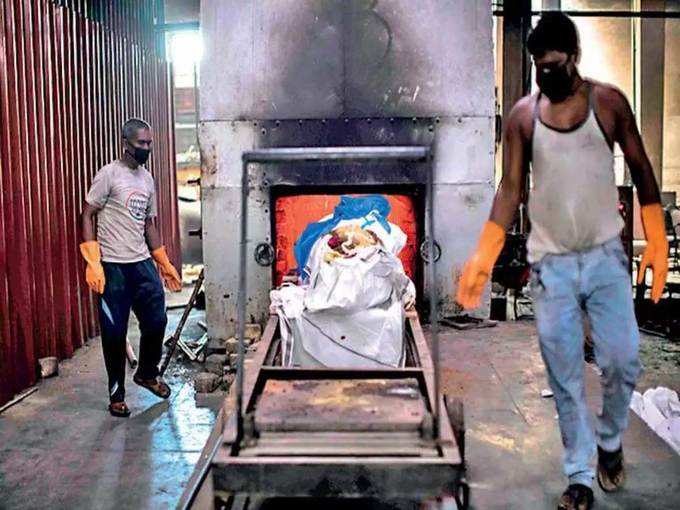 After the boom in Corona cases, there are more cremation grounds in Delhi, and the system of burning those who died from this disease is being improved. Half of the wooden pyres on the Nigam Bodh Ghat will be reserved for those who die from the corona. The number of CNG platforms is being doubled. According to Mayor Jayaprakash, there are 70 platforms for burning wood at Nigam Bodh Ghat. Half of them will be reserved for the corona dead, so that people will not have trouble burning the deadbody. The people who came to perform the last rites in May-June had a lot of trouble due to poor arrangements. Due to the high number of dead, advance booking was not available at the cremation grounds. Corona cases will be high again, if such situation does not come, so the place is being reserved in advance. Three CNG platforms have been built at Nigam Bodh Ghat. Three more CNG platforms are being built. In the next one week, the new three CNG platforms will be ready. In total, six CNG platforms will be built at Nigam Bodh Ghat.

navbharattimes.indiatimes.com