Highlights:
Chaos on Chhath Puja ban in public places in Delhi
The fight between BJP and AAP over ban on worship intensified
Former Delhi BJP Chief Manoj Tiwari said abuses to CM Arvind Kejriwal
Please tell that due to Corona, Chhath Puja is banned in public places in the state.
new Delhi
After the state government's ban on Chhath Puja Ban in Delhi in public places in the capital Delhi, the battle between the BJP and AAP is not taking its name. In this episode, now former Chief and MP of Delhi BJP, Manoj Tiwary has even spoken abuses to CM Arvind Kejriwal. Tiwari said that a false drama is being done in the name of guidelines. Explain that due to Corona epidemic, the state government has not allowed Chhath Puja in public places and the Delhi High Court has justified this decision.
Tiwari told Kejriwal in a tweet, unfortunate
Tiwari said in a tweet, 'Amazing Kamal Ram is Chief Minister Arvind Kejriwal. By following the social distancing rules of Kovid, you will not allow Chhath and get your people to do a false drama by asking the Guidelines Center. So tell me, what guidelines were followed for this 24-hour liquorice, say CM.
Blog: How does this happen with the sale of camel-donkeys, if not corona from collective bathing in Brahma Sarovar?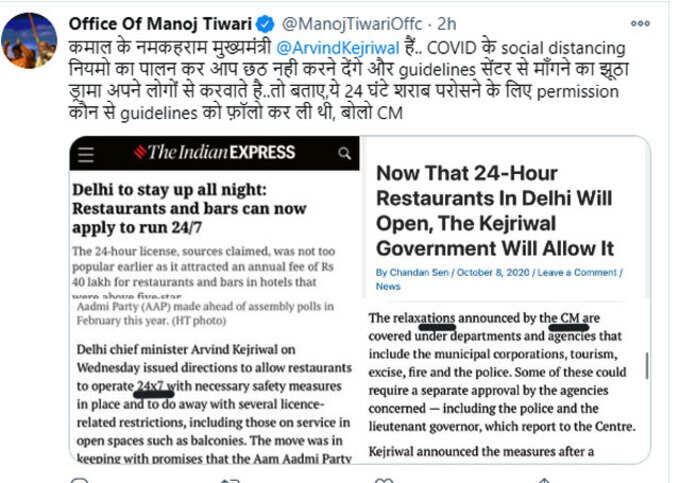 High court upheld Delhi government's decision
Meanwhile, the Delhi High Court has upheld the Delhi government's order not to conduct Chhath Puja in public places due to Corona Pandemic. The High Court said in its order that allowing Chhath Puja in public places will have to prepare the way for rapid spread of this deadly disease.
A battle between AAP-BJP on Chhath Puja
Let us know that the fight between BJP and AAP is going on fiercely with the ban on Chhath Puja in public places in Delhi. Activists of Delhi BJP Purvanchal Morcha demonstrated at CM residence on Tuesday to demand Chhath Puja in public places. Delhi BJP General Secretary Dinesh Pratap Singh, Purvanchal Morcha President Kaushal Mishra and many others were present in the demonstration. On the other hand, Aam Aadmi Party has attacked BJP for organizing Chhath Puja. The party said that the BJP's central government has stopped celebrating Chhath festival by issuing guidelines. BJP leaders are doing politics by accusing the Delhi government of not allowing them to celebrate the festival.
BJP's ruckus on Kejriwal
BJP state general secretary Dinesh Pratap Singh said that while the Chief Minister in Delhi can allow weekly markets, malls, liquor contracts and e-rickshaws to be run, why can not the permission be given for organizing Chhath Puja. He said that if the Chief Minister can worship at the Akshardham temple with hundreds of people, permission should also be given to conduct Chhath Puja. By prohibiting Chhath Puja, the Chief Minister has discriminated against millions of Purvanchalis and hurt their religious sentiments. Purvanchal Morcha president Kaushal Mishra said that no Purvanchali thought that he would have to make such requests to the Chief Minister regarding the organization of Chhath.

navbharattimes.indiatimes.com