Highlights:
The terrorists arrested in Delhi had an attack plan like Kasab
Delhi Police's special cell arrested Sarai Kale Khan
Both terrorists were going to Deoband in UP, both terrorists are from Kashmir
Rajasekhar Jha, New Delhi
Delhi Police Special Cell on Monday arrested two dreaded terrorists of Jaish-e-Mohammad and managed to avert a major disaster in Delhi. The plan of the two arrested terrorists was to target people on the streets, like Ajmal Kasab, the culprit of the Mumbai attack. But with the vigilance of Delhi Police, 'two Kasab' were caught.
Police arrested both of them from Sarai Kale Khan of Delhi. Sources in the Special Cell said that both the radical militants had orders for a major attack in Delhi. Both the terrorists are from Kashmir.
Know the horoscope of terrorists
The suspected terrorist named Abdul Latif Mir (22) hails from Baramulla in Kashmir. He has taken Hafiz (whom the Quran memorized) from Srinagar to Darul Uloom Bilalia Shaka Madrasa. The second suspect, Mohammad Ashraf Khatna (20), has also studied Hafiz from the Meera madrasa. Both the terrorists moved towards radicalism through social media. Both Pakistani handlers pushed towards radicalism. Four months ago, Jait's recruiter Aftab Malik, who lives in Lahore, was contacted through a messenger app. Then the phone started talking on social media app.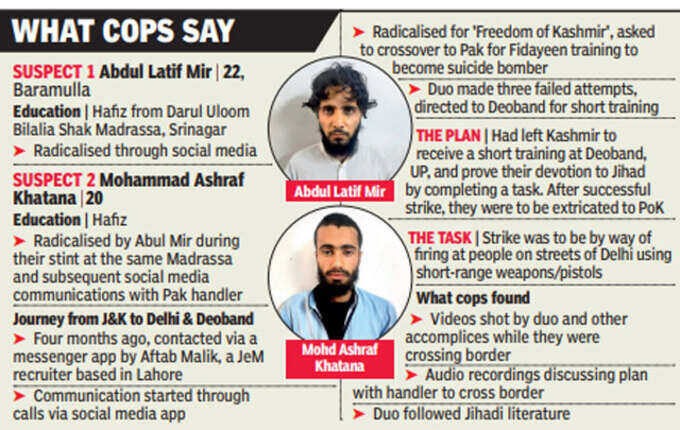 Attack plan was like Kasab
The arrested militant bosses had called the duo for training in a suicide attack in Pakistan. However, both failed to cross the border three times, after which they were asked to train in Deoband. Both were leaving Kashmir and coming to Deoband in UP. They would then be sent to PoK. In Pakistan, he was called an attack on people walking on the streets of Delhi. For this, they were asked to use small range weapons.
These items found from terrorists
Video of the Special Cell crossing the border with the terrorists. Audio and jihadi literature of planning an attack have been found from Acao across the border. Special Cell's DCP Sanjeev Yadav said that both the terrorists wanted to restore Kashmir's independence and Article 370 in the state. Both have been sent to police custody for three days for questioning.
This is how Delhi's 'Kasab' was caught
Actually, the special cell got a secret information that two terrorists of Jaish are coming to Delhi and then they will go to UP. Special team inspector Man Singh got information from a source in Deoband. After this, Singh got the information that Jaish will come to two terror inn Sarai Kale Khan and then from there to Nizamuddin will stop for some time and go to Deoband. Traps were laid to catch the terrorists and then arrested. The role model of the arrested terrorists was Maulana Masood Azhar.

navbharattimes.indiatimes.com