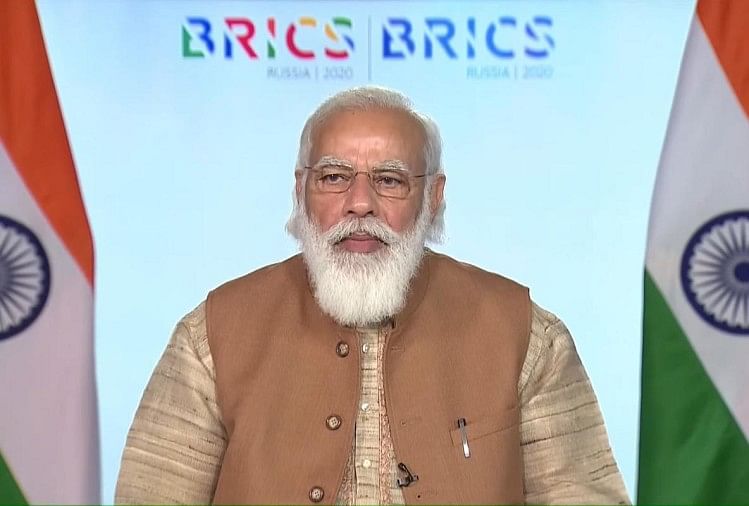 India News
Pm Narendra Modi Attends 12th Brics Summit – Modi at the BRICS conference, can help the whole world self-reliant India
On November 17, 2020 by admin
News Desk, Amar Ujala, New Delhi
Updated Tue, 17 Nov 2020 05:50 PM IST
Prime Minister Narendra Modi addressing BRICS summit
– Photo: YouTube ScreenGrab
Prime Minister Narendra Modi attended the 12th BRICS Summit today. In this conference organized through virtual medium, Prime Minister Modi in his address spoke on many issues including terrorism, corona epidemic and self-reliant India and said that our capabilities can serve the good of the whole world.
Modi blamed terrorism and those supporting terrorists as equal, and said that we have to ensure that countries supporting and supporting terrorists are also blamed and this problem is dealt with in an organized manner.

India can contribute significantly in global value chain after Kovid
Talking about self-reliant India campaign, Prime Minister Modi said that we have started a comprehensive reform process in our country under the 'Self-reliant India' campaign. Our campaign is based on the belief that India can contribute significantly to the global value chain.
He said that the self-reliant India campaign is based on the belief that India, which has become self-reliant after Kovid-19, can play a very important role in the global economy and can help improve the economy of other countries as well.
Our capabilities will be useful to the whole humanity with regard to the Kovid vaccine
Regarding the capabilities of India, the Prime Minister said that the whole world saw this example during the Kovid-19, when we were able to deliver essential medicines to more than 150 countries due to the capabilities of the Indian pharma industry. Our vaccine production and delivery capacity will also be of use to humanity.
Prime Minister Modi said that in 2021, 15 years of BRICS will be completed. Our Sherpa can make a report to evaluate our various decisions over the years. "During our chairmanship in 2021, we will try to strengthen intra-BRICS cooperation in all three BRICS pillars," he said.

www.amarujala.com